Peter David, writes about his very special Omega Moonwatch
Back in the 60's when I was a child growing up in London I remember the glorious day of 21st July 1969, when Apollo 11 astronauts Neil Armstrong, Buzz Aldrin and Michael Collins achieved their historic mission of landing on the moon. The world united and celebrated this heroic landmark in human history. My story below story is a continuous thread which connects many points together from then until now.
Having grown up in space era and having seen many of the moon landings I was always intrigued and fascinated by the whole concept of space travel and what it took to get there and like most of us kids at the time all I wanted to be was an astronaut. I spent most of my spare time painting and drawing fantasy space pictures and I even sent them to a well known BBC childrens art television series at the time called Vision On where the host Tony Hart would display sent in paintings and drawings in the hope that mine would be one of the chosen ones and it eventually was.
A few years later I was first introduced to watches. My father had bought an Omega Seamaster in the 70's and I was in awe of how the movement never needed winding but just a few shakes would set this amazing automatic movement into life. It was his Sunday watch for special occasions. The mechanical harmony and intrigue had me wanting one when I would eventually grow up and could afford one. But it would not be until many years later that my love for both space and watches would unite in an incredible journey.
In 1995 when Pierce Brosnan starred in his first Bond movie Goldeneye, a very close friend who is a Bond fanatic wanted to see the new Bond watch now worn by 007. Gone were the Rolex Submariners and Seikos and in place was the Omega Seamaster. We arranged to go to Harrods to experience it first hand and try it on for real. Upon seeing the watches in the display I was immediately drawn to a stunning watch next to the Bond Seamaster which had a black dial that I couldn't stop looking at. I liked it so much that I wondered why Bond didn't wear this instead, it was far nicer. It was the Speedmaster. It was the first time I had ever seen one and was more my kind of watch. As the salesperson handed it over to me I carefully admired it and when I turned it over and looked at the back I was in total awe of what I read: "Flight Qualified By NASA For All Manned Space Missions" and "The First Watch Worn On The Moon". I had no idea of its existence let alone NASA having a flight qualified watch that was also worn on the moon. My goal was set, space and watches united, both my passions over many years had culminated together and I had to have one although would be a few years before that would eventually happen.
I started off collecting watches with my first purchase being an Omega Seamaster F300 tuning fork movement which was my stepping stone into the world of horology. At only £80 it was a good deal. After many part exchanges and trades I eventually bought my dream watch, the Speedmaster Professional Moon watch. That was my goal achieved and as all of us watch enthusiasts know there is no final watch, its a snowball effect that just makes you want more!
Fast forward to the year 2000 and the internet was still a fairly new novelty that I had just installed at home. I was browsing with a friend and being the space nerd that I am I wanted to look at the Apollo missions and was looking at astronaut training. By pure coincidence a link came up from NASA's Space Academy. Curious to see what this was all about I read it and realised that there were many different programmes for individuals of all ages to experience astronaut training for simple civilians like myself.
I was looking at the Advanced Adult Space Academy at NASA's Marshall Space Flight and Rocket Centre in Huntsville, Alabama where it all happened in the early 60's. Its first mission was developing the Saturn launch vehicles for the Apollo program. I was speechless that my childhood dream of becoming an astronaut was staring right in front of me right here at home.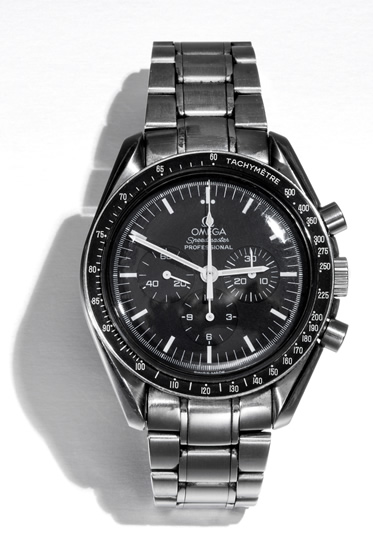 The training doesn't qualify you to fly for real of course but gives you a pure and authentic experience of what its like to be an astronaut. The entire training was done at NASA even staying in the NASA complex in simulated space habs. We had access to all the real equipment used by astronauts in including a full size space shuttle simulator and all training missions were as the real deal. I even had to pass a medical here in the UK before I could go there to conduct the neutral buoyancy underwater astronaut training, exactly as the astronauts still do and conducted a mission underwater.
By the time I could finish reading online about all the different options available I picked up the phone, called the Space Academy at NASA and within minutes I had booked, paid and set myself something that I had no idea of what to expect. I knew of no one that had ever done it, I couldn't speak to anyone that could relate to me because of the subject matter and my friend that was next to me literally said, "what the f*** have you just done!"
I had booked to be the EVA specialist which stands for Extra Vehicular Activity, basically I would be doing the space walk in the missions, I couldn't wait!. My impulsive nature has led me into many situations but you only live once and I like to make the most of it, so I did! It was the greatest experience of my life and I met some of the most incredible people and in the 20 years that have passed I am still close with my colleagues and also some of the Apollo astronauts. I think you know where this is heading to, literally!
In 2005 I was invited by one of my Space Academy colleagues and very good friend Ken Schwartz to attend the Astronaut Hall of Fame induction ceremony and gala dinner in Florida at the Kennedy Space Centre. We had stayed in touch since we trained at Space Academy and he was a hard core space enthusiast and had very generously sponsored a table for this event. I so was excited that I would have the chance to meet and speak with the astronauts and NASA personnel spanning from the original Mercury, Gemini and Apollo missions right through to Skylab and the International Space Station which I had seen being built whilst in Hunstville.
Among one of the astronauts due to attend was Apollo 16 lunar module pilot Charlie Duke. I had admired seeing him on the many Discovery channels space programmes talking about his amazing career and experiences in the space programme, one that spanned for many years across many missions including not only walking on the moon in 1972 but was also the CAPCOM for Apollo 11, the first manned lunar landing guiding Neil Armstrong, Buzz Aldrin and Michael Collins to the landing.
That night I wore my most favourite watch, the Omega Speedmaster Professional. It was a fascinating event, absolutely incredible!
There I was, mingling with these great history makers with "The Right Stuff" including Buzz Aldrin of Apollo 11, Jim Lovell and Fred Haise of Apollo 13, Al Worden of Apollo15 etc, and then Charlie Duke walked into the room.
What a night, to finally meet this most humble and polite human being was a real honour. He really is an absolute gentleman, totally down to earth (no pun intended). As you can imagine, the first thing I noticed before we even spoke is that he was also wearing his Speedmaster Moon watch. As I introduced myself to him we shook hands and I gestured at our wrists and there was an acknowledgement between us, followed by me asking "what's it going to take to have your watch?" It was such an honour to meet him, one of only 12 men to have walked on the moon, and only 6 remaining. The following year Charlie came to London for a dinner event which I attended and again he was wearing his Speedmaster. We swapped watches over for a few minutes and joked about us doing it for real. It was not his flight worn watch from Apollo 16 of course but this was his personal watch that he wore for many years and was given to him by the president of Omega back in the 90s during a visit there to the factory in Bienne. We exchanged details and stayed in touch.
The following year in 2007, I attended the Astronaut Hall of Fame Gala dinner induction once more, again invited by my close friend Ken. Charlie and I had stayed in contact during the two previous years that we had met and we made a prior agreement to literally exchange our watches, a gentleman's agreement we made between us and on the 2nd May 2007 that became a reality and was a very significant part of my life.
He knew I was a space buff and watch enthusiast and he made this dream come true, something I never thought would have happened. We decided to exchange our watches over breakfast the next morning and Ken and I went to meet Charlie at his hotel lobby.
We went for breakfast at Denny's Diner in Cocoa Beach in Florida. Cocoa Beach is where the astronauts used to stay during the 60s whilst training at Cape Kennedy Space Centre and this is where they (and I) were staying now as well. I couldn't believe what was actually happening and it got even more amazing. There I was sitting there with Charlie Duke and my friend Ken having pancakes and scrambled eggs and the waitress came over and said "sir I want to shake your hand' and with my confused state I asked why, she replied "because that man over there said you walked on the moon". Charlie steps in, "it wasn't him it was me!" We all laughed and looked across the room to see who she was referring to and it was none other than Apollo 14 Lunar Module Pilot and moon walker Ed Mitchell. At this point I thought I was in a fantasy dream, two moon walkers together.
How surreal was all this! I was smiling from ear to ear, I just couldn't believe it. After we ate I remember washing my hands to get rid of the sticky maple syrup and greasy fingers before handling any watches, especially his. We exchanged our watches, our Speedmasters which had brought me to this long and epic journey connected by events throughout my life that culminated into an incredible lifetime pinnacle. We held them up together to take some photos and tried them on. I was literally speechless and thought I was dreaming.
To this day we have stayed in touch and have very fond memories of that amazing experience which started so many years ago on a journey like no other which I am so grateful for.